Keen to learn and master Salesforce on-the-job? Here's how.
SGTech – an advocate for Singapore's tech industry recently launched their Professional Conversion Programmes (PCPs) for individuals who are keen to take on Salesforce related jobs but have currently no knowledge of the software. Targeted at Professional, Executives, and Technicians, we are interested to find out more about the programme, and most of all, what SG Tech is all about.
Zhihan Yeo, Head of Capability and Capacity Development, together with his team gave us insights on SGTech and its mission for being PCP's Programme Manager for Salesforce Platform Professionals.


Zhihan, tell us about your role as Head of Capability and Capacity Development.



Zhihan: The core purpose of what I do is to create new capabilities within SGTech that will help us better address key industry concerns and provide value to the tech community. While I also oversee strategic planning for internationalisation and digital transformation, a lot of my focus in the past year has been on tech manpower issues, because it's still the number one challenge for the industry, and also very fundamental for growth.

From a national standpoint, any talk of industry transformation or Smart Nation would be worthless if there isn't enough talent to execute the vision. From a personal standpoint, it's ultimately about doing our part to create quality jobs for our workforce.

There's just something deeply fulfilling about helping vulnerable workers find a new job and a new career.



For our readers who are not familiar with SGTech, tell us in your own words what SGTech is all about.

Zhihan: SGTech is a premier trade association for the tech industry in Singapore (We were previously known as SiTF, in case some might be more familiar with the former name). SGTech seeks to serve as an advocate for the tech industry, as well as supporting Singapore's agenda for technology.

Think of it as us striving to create an ecosystem that anticipate tech trends and coming up with initiatives and collaborations to help the community and strengthen the industry.



What kind of companies are part of SGTech's membership?

Zhihan: We have around 700+ members and they range from innovative start-ups all the way to MNCs. Regardless of size, scope or sector - all SGTech members use technology as a core driver of their business.

We place an emphasis on different 'SG Chapters' – meaning we give support to emerging sectors in the industry such as Cloud and Big Data, Cyber Security, Digital Transformation, Singapore Enterprise, AI & High-Performance Computing, Smart Nation. End-user organisations are also welcome to join us as a member!

Within the infocomm industry, there are also 4 key areas that the industry is focused on:

AI & Data Science
Cyber Security
Immersive Media
Internet of Things

Also, outside of the infocomm industry, we see that there is a demand for digitization in following verticals: Healthcare, Media, Insurance, Logistics, Consultancy, Financial Services, E-commerce, as well as Manufacturing.

Talk us through the Professional Conversion Programme (PCP) and how SGTech is collaborating with Workforce Singapore (WSG) for it. SGTech's Salesforce Professional Conversion Programme (PCP) event

Zhihan: PCPs are career conversion programmes by Workforce Singapore (WSG). It is a place-and-train programme for Professionals, Managers, Executives and Technicals (PMETs) who are looking to make a mid-career switch or undergo skill conversion.

Candidates have to accept an employment contract from employers. Successful hires will then be required to attend training sessions by the training provider together with on-the-job training.

SGTech is the Programme Manager for PCP for Salesforce Platform Professionals. This PCP is a 6-months conversion programme to equip trainees with Salesforce platform knowledge and skills to perform Salesforce related job roles, such as Salesforce Administrator, Salesforce Cloud Consultants, or Salesforce Platform Developer, with their employers.

Who will the programme empower or benefit?

PMETs who want to make a mid-career switch or undergo skill conversion. PCP makes it possible for PMETs to take that first step and undergo classroom training by Salesforce as well as structured on-the-job training with the employer.

Interested individuals need to meet the following criteria:

Singapore Citizen (SC) or Permanent Resident (PR);
Minimum of 21 years old;
At least 2 years of work experience from either graduation or completion of National Service; and
No recent working experience or certification in the areas of Salesforce platform.

Interested individuals should take note of the following job requirements:

Background in ICT or business administration, or relevant working experience preferred
Other job requirements based on employer's hiring needs



Are you able to name a few companies that you are working with for PCP?

Zhihan: Employers hiring for Salesforce related job roles are in various industries such as Infocomm Technology (ICT), finance and healthcare. They can range from start-ups, SME and MNC. The potential employers for PCP for Salesforce Platform Professionals are typically either the end users who use Salesforce platform in their businesses or solution providers who deliver customised solutions using Salesforce platform to their customers.



How can interested individuals register for the Salesforce Platform Professionals programme?

Zhihan: Interested individuals can register their interest for the programme with SGTech here or email This email address is being protected from spambots. You need JavaScript enabled to view it. for details. Eligible and suitable individuals who register their interest for the programme would be shortlisted by participating companies for job interviews, and be placed under the PCP for training.

Alternatively, individuals can also apply for jobs from jobs portal e.g. MyCareersFuture, and recommend their employers to be onboard the programme.

If there is one thing you want our readers to take away from this - what would it be?
Zhihan: As this is a conversion programme, candidates should be ready to put in their best effort to study, willing to learn and be trained in new skills and career. After the 6 months of training, candidates should be able to perform their respective roles with their employers.

Individuals keen to find out more about PCP for Salesforce Platform Professionals can attend an upcoming networking event on this Thursday 29 November, 2018.

Register at bit.ly/pcpsalesforcenov18 or email This email address is being protected from spambots. You need JavaScript enabled to view it. for details!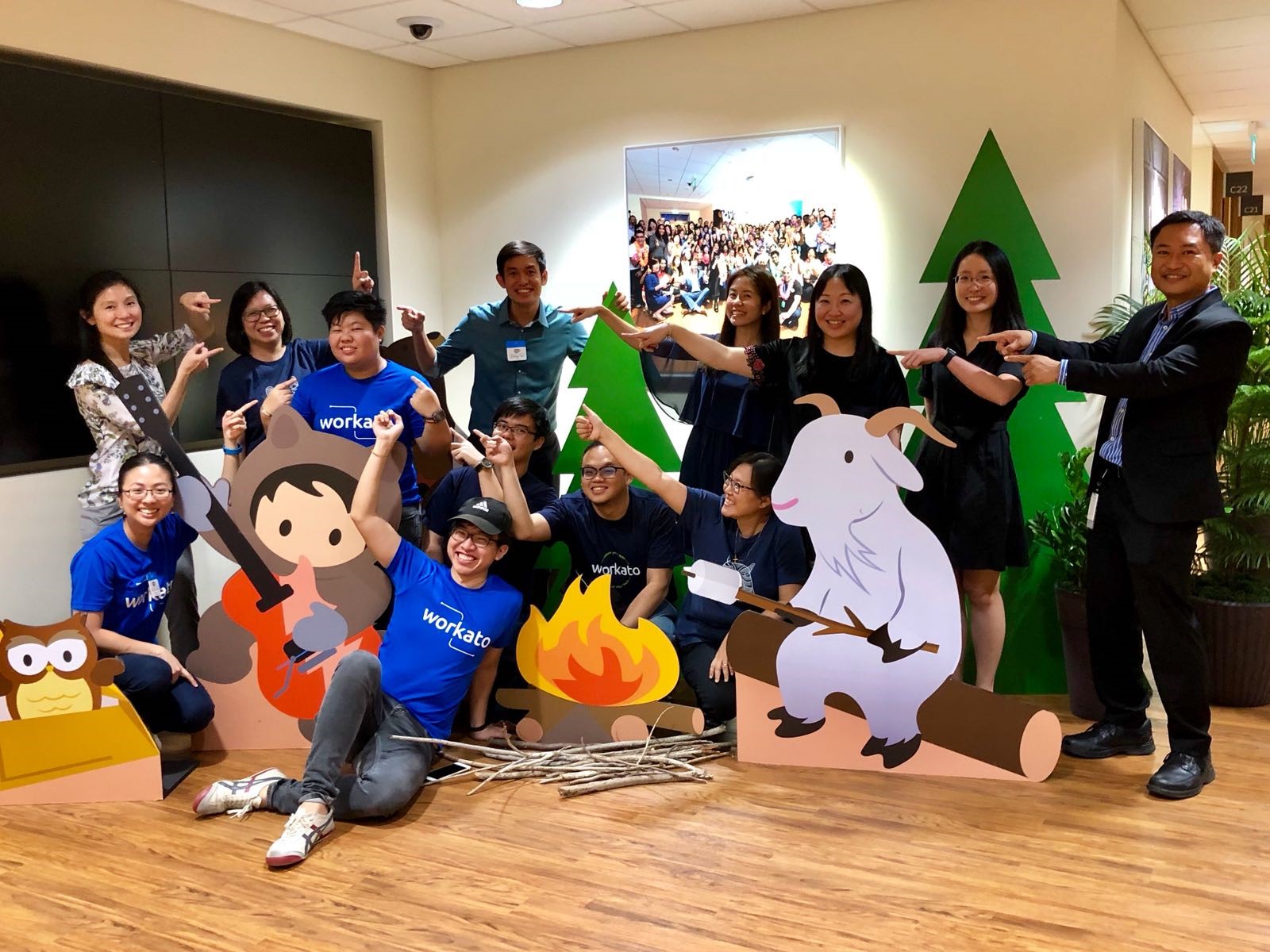 Photo credits and all information thanks to the team at SGTech!
---
*Participants may sign up for the event anytime before the 29th of November.
Written by: Yasmeen Banu